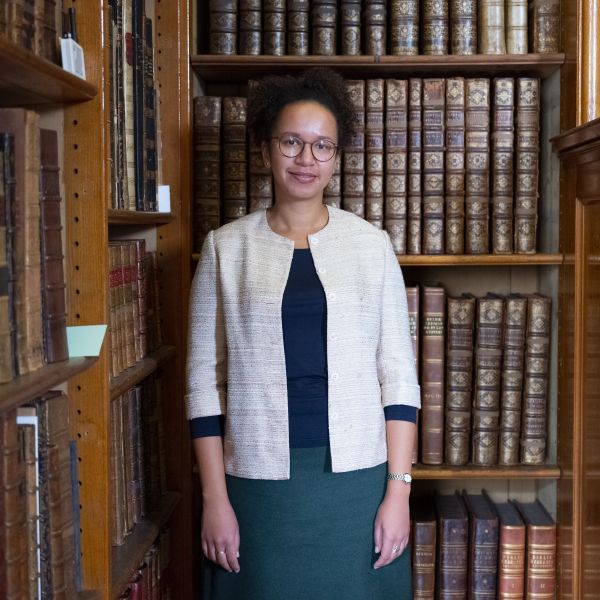 Research Associate: Literary and Artistic Archives
Mathelinda Nabugodi is a Research Associate in the Literary and Artistic Archive at the Fitzwilliam Museum. She was previously a Leverhulme Trust Early Career Fellow in the Faculty of English, Cambridge (2019-22), and before that a Post-Doctoral Research Associate at Newcastle University (2017-19).
She is also working on a book, The Trembling Hand: Reflections of a Black Woman in the Romantic Archive, that explores objects that once belonged to the great Romantic poets: Wordsworth's teacup, Byron's carnival mask, Shelley's yellow kidskin glove and the like. These archival objects reveal how the poets' lives were embedded in a global economy fuelled by slavery and exploitation. A work-in-progress sample won the 2021 Deborah Rogers Foundation Writer's Award and the book will be published in 2024.
She was the first to be awarded a PhD in Creative Critical Writing from UCL for an experimental reading of Percy Bysshe Shelley together with Walter Benjamin, which will appear as Shelley with Benjamin: A Critical Mosaic in late 2022. She did her undergraduate degree at the University of Edinburgh. She has edited Shelley's translations from Aeschylus, Calderón and Goethe for volumes five and six of The Poems of Shelley and published articles on translation, ekphrasis, creative critical methods, and the racist history of hair.
Researchers with similar profiles
Updates about future exhibitions and displays, family activities, virtual events & news. You'll be the first to know...