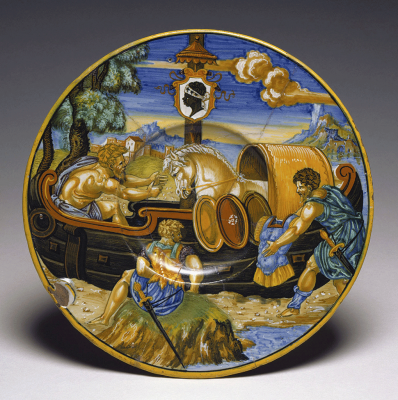 This plate depicts a scene from the celebrated Italian poem 'Orlando Furioso', an early sixteenth-century epic relating the adventures of two heroes, Orlando and Ruggiero.
Professor Patrick Boyd of Cambridge University explains what we see here:
'Well, Orlando Furioso is a very long narrative poem, written in the early part of the sixteenth century, which was an immediate success and is one of the three greatest works of Italian literature, the most enjoyable that there are.
Orlando is currently in Africa, and the story is set here, on the shore of Africa. He has arrived without any armour, without any sword, and without any horse.
He's with two friends called Brandimarte and Oliviero who are going to fight a battle, a three against three, to bring this war to its final conclusion, probably on that island in the background that I suspect is intended for Lampedusa.
Providentially, they go along the shore and they find a ship there that has been brought ashore by the wind and on this ship or boat they find a horse, a magic horse and a sword, a magic sword and an impregnable suit of armour.
And they apportion these arms between one each other, such that Orlando in the foreground gets the sword and Brandimarte reaches out for the horse and you see Oliviero trying on the armour.
How did this armour get there? Well, Ruggiero did have it, but he was on a boat and a great storm blew up and the crew abandoned ship and then the ship was blown without its crew and without its passengers onto the shores of Africa, which is where we are.'
The plate bears the distinctive Moor's-head coat of arms of the powerful Pucci family of Florence, for whom it was decorated by the painter Francesco Xanto Avelli in 1532.