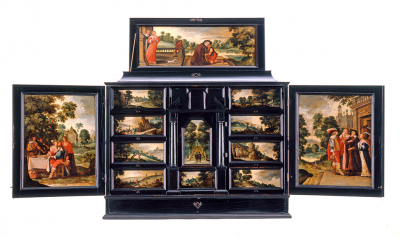 The thirteen paintings spread over this cabinet offer a seventeenth-century retelling of the story of the Prodigal Son, the New Testament parable in which a young man squanders his inheritance and becomes destitute before being welcomed back into the heart of his loving family. The overall decorative here was, one senses, more important than the individual excellence of each panel.
The quality of painting throughout is not even – the larger paintings on the doors, for instance, are more carefully made than those on the drawers.
The choice of the story, in which the values of forgiveness and repentance are placed above material concerns, was particularly appropriate to seventeenth-century Antwerp, where the cabinet was produced.
This was a devoutly religious, yet commercially booming society, and the parable stood both as a warning against the abuse of wealth and a demonstration that such abuses could be forgiven.
Cabinets like this were produced in large numbers in Antwerp at the time. The best might have been used as diplomatic gifts, but most, like this example, would probably adorn the rooms of well-to-do merchants, perhaps to be used as display for collections of curiosities.
The central panel is perhaps the most successful of the smaller panels on the cabinet. Here, the viewer is placed behind the Prodigal's mother and father, who watch their remorseful offspring approaching from a distance down an avenue of trees, as the Bible narrative says:
'But when he was yet a great way off, his father saw him and had compassion, and ran and fell on his neck and kissed him, and the son said unto him:
"Father, I have sinned against heaven and in thy sight, and am no more worthy to be called thy son." But the father said to his servants, "Bring forth the best robe and put it on him, and put a ring on his hand and shoes on his feet, and bring hither the fatted calf and kill it, and let us eat and be merry. For this my son was dead and is alive again. He was lost and is found." And they began to be merry.'
We see this touching reunion taking place on the flap at the top of the cabinet. The family's spaniel trots to join the embrace, while the Prodigal's brother looks jealously on.