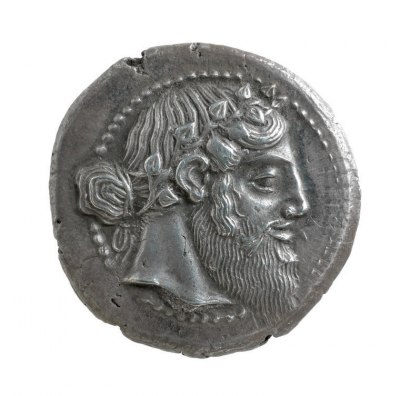 Greek coin specialist Evi Markou: 'The silver tetradrachm of Naxos is one of the masterpieces the ancient world. Naxos was founded by Greek settlers coming from Chalcis in 735 BCE. It was one of the first cities of Sicily that started issuing coins.'
On the obverse, the 'heads' side of the coin you can see on your screen, is Dionysus, the Greek god of wine, a lavishly bearded male with an ivy wreath around his head. On the other side, a brilliantly depicted naked satyr or Silenus crouches down, a kantharos wine cup in his hand.
Evi Markou:
'Naxos was well known for producing wine in antiquity, and the fact that the face of the Dionysus is combined with one of his followers, Silenus, on the reverse, preparing to drink wine from a kantharos, is a very important element, proving the importance of wine for the colony of Naxos, and this one is important because the residents of Naxos in 476 were actually removed from their city to Lentini, another Sicilian city, by the tyrant of Syracuse, Hieron I.
Fifteen years later, when the tyrant was deposed, they were permitted to come back home. This coin started in this period, in 460, and it was probably issued to celebrate this very important event for the city.'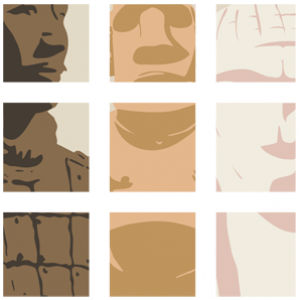 The transcription of the audio file for this stop was enabled by the AHRC funded crowd-sourcing platform MicroPasts. The below generously gave their time to transcribe the file.
Lorna Keddie, Nina, Elena Doran, Jennifer Palling, Adi Levin, T May, Athena and Roger Willmot