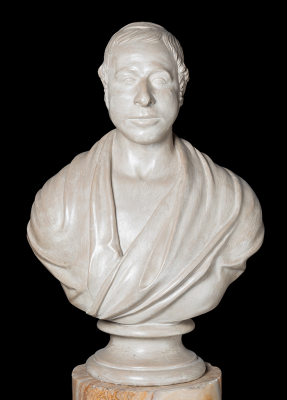 This is George Basevi, the architect of the Fitzwilliam Museum. Basevi had been a pupil of the great neoclassical architect Sir John Soane, and the commission to build the Fitzwilliam was the most important of his career.
Tragically, he never saw it finished, for on 16 October 1845 he fell from his death from the west tower of Ely Cathedral.
Here's an eyewitness account: 'Mr Basevi advanced towards one of the recently opened windows along a broad beam, from both sides of which the flooring had been removed.
He was cautioned as to certain nails sticking up in the beam, but scarcely had the words dropped from Mr Stewart's lips when Mr Basevi tripped and fell through an aperture in the floor onto the vaulting over the arch under the tower distance of over 40 feet.
His hands were unfortunately in his pockets, which prevented his making any effort to recover his balance, or to catch hold of the adjoining beams. He died almost immediately.'