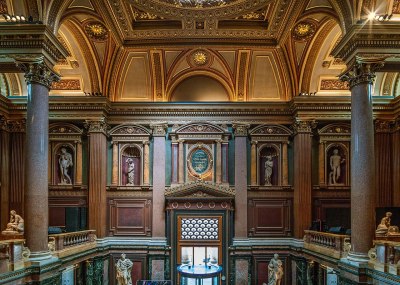 In the twelve niches around the upper walls of the entrance hall, you can see plaster casts, most of them based on ancient statues. The Romans themselves are known to have made plaster copies of their sculpture.
But it was during the sixteenth century, as the fame of the most beautiful statues of antiquity spread throughout Europe, that an important market for casts began.
They were used decoratively in many homes and educationally in drawing schools and later schools of archaeology and classical art. The examples showing on your screen now can be seen high up in the right-hand wall as you face the entrance, towards the door. It is a copy of a statue, now in the Capitoline museum in Rome, depicting Antinuous, the beloved companion of the Emperor Hadrian who drowned in the Nile in 130 CE.
The grieving emperor declared that his favourite had become a god, and Antinous proved to be one of the most popular deities of the later Roman Empire. The statue of which this is a copy is thought to have been excavated from the site of Hadrian's Villa at Tivoli outside Rome, as was another image of Antinous now in the Fitzwilliam.