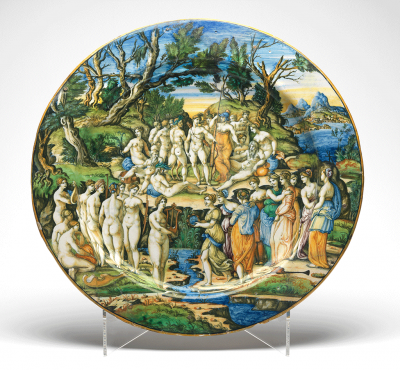 'Having dared to contest with the Muses and defeated by voice, they now fly as magpies, imitating everything.' So says the inscription on the back of this large plate. The 'they' in question are the nine daughters of King Pieros, who we see here, challenging the nine Muses to a musical contest.
In the background, a jury of nymphs and gods listen. Look for Minerva, holding her spear, and Mercury with his winged hat.
The story comes from 'The Metamorphoses', a long work by the Roman poet Ovid. He tells how the Pierides lose the contest, but question the judge's decision, and are then punished with a presumption and rudeness by being turned into magpies.
The Pierides are relatively lucky in their punishment, for challenging immortals to musical competitions could be a hazardous business in Greek myth. The satyr Marsyas, losing to Apollo's lyre upon his pipes, was flayed alive.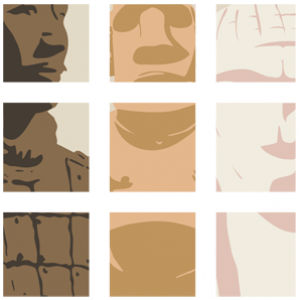 The transcription of the audio file for this stop was enabled by the AHRC funded crowd-sourcing platform MicroPasts. The below generously gave their time to transcribe the file.
Anna, Adi Levin and an Anonymous contributor