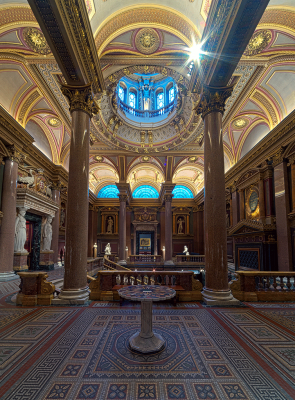 In 1834, when Cambridge University held a competition for the design of the Fitzwilliam Museum, there were two dominant styles in English architecture: Gothic and Classical.
Standing in this hallway, with its casts of ancient statues, its towering Corinthian pillars, and sculpted the door supports its mosaic floor and central dome, there can be little doubt that the tastes of the dons who judged the competition lay in the ancient Mediterranean.
Remarkably for a building of this period, the multi-coloured decoration, the polychromy, has been virtually untouched since it first went up. Architectural conservator Tobit Curteis recently oversaw the cleaning of the entrance hall.
'The Fitzwilliam's decision to conserve the nineteenth-century the entrance hall is an extremely important one, because generally this sort of decoration is painted over as it's unfashionable. However I did hear that it should be treated with the same conservation criteria as every other historic object in the museum. The conservation work itself was principally involved with cleaning the polychromy as it was in a fairly stable condition.
When the team of conservators were working on it we found a lot of fascinating details which are simply invisible from the ground. The fact that the Victorian gilding was deliberately antiqued, that is to say whole series of they painted on green deterioration around the gilding is something which shows the remarkable detail the painters were going to. Similarly, the window glass, which is incredibly detailed. One simply doesn't see this from the ground. Probably the most exciting discovery was the series of signatures on the horizontal surfaces next to areas where the artists and painters had cleaned their brushes.