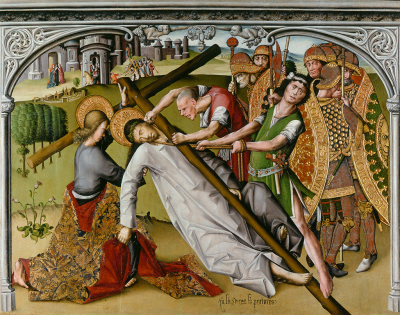 Between Christ's arrest and his crucifixion, the Gospels tell how he was tormented by the soldiers of Pontius Pilate. The Spanish artists Juan and Diego Sanchez here give a stark account of the brutality he suffered at the hands of his captors.
The bitter sense of conflict within the painting is reflected in its composition, which is split diagonally by the upright of Christ's cross. On either side of this wooden bar are a series of opposites.
The falling Christ is supported by St John, identifiable by an inscription on his halo; a youthful, dignified, sumptuously dressed figure who contrasts sharply with the leering shaven-headed thug punching Christ's ear.
Further up, in the distance, the same diagonal separates the two thieves who would be crucified alongside Christ from the three mourning women to the left – the Virgin Mary, Mary the mother of James, and Mary Magdalene – as they emerge from Jerusalem to take the sorrowful road to Calvary; but perhaps the most striking contrast is in the two faces that stare out at us.
On the right a wild-eyed executioner yanks at the halter around Christ's neck. Note how tightly his hands grip the rope, how the muscles in his arms are taut. The nails and hammer in this man's belt will be used in the crucifixion; but despite the violence that he suffers – see how his head bleeds and the crown of thorns – Christ maintains a remarkable calm, and his direct gaze, for all its passivity, is somewhat unsettling.
It involves us directly in this grim procession. It is as if we ourselves are cast as passers-by, unwilling or unable to help this man as he is led to his death. The executioners and soldiers who accompany Christ here are a particularly odious-looking bunch.
Conservator Spike Bucklow has a theory as to why they look as they do:
'The soldiers who attack Christ on the road to Calvary, are unbalanced people and quite often their imbalance is shown with physical symptoms of disease. They quite often have noses eroded by syphilis, or noses swollen with drink, but in this painting, the imbalance of the soldiers is much more sophisticated.
Here, the imbalance is shown in terms of the four humours. The soldier closest to Christ is choleric: he has an excess of fire, which accounts for his fiery appearance and aggressive temperament.
The soldier next to him, who looks out of the painting, is sanguine: he has an excess of air and is pretty vacant.
Between them, looking towards Christ, is a wizened man who is phlegmatic: he has an excess of water in his metabolism and therefore looks dissipated and washed out. Immediately behind him is a rather heavy, thick-looking man who is very dark, and he has an excess of earth and is an example of a melancholic disposition.'