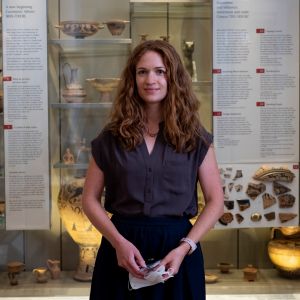 Dr Jana Mokrisova
Dr Jana Mokrisova is Research Associate to the 'Being an Islander': Art and Identity of the Large Mediterranean Islands project where she leads research on mobility and metal technologies. She holds a PhD in Classical Art and Archaeology from the University of Michigan, and her research investigates the interconnections between different forms of mobility, cultural exchange, and identity formation in the eastern Mediterranean during the Late Bronze and Early Iron Ages.
Jana is also Research Associate in the Faculty of Classics with the Migration and the Making of the Ancient Greek World (which is an ERC-sponsored project based at the University of Vienna). Her research here develops aspects of ancient mobilities, such as the application of landscape approaches to understanding regional dynamics in ancient Anatolia. She is also a member of 'Project Sideros: Early Iron Technology in the Aegean during the Early Iron Age' (Charles University, Prague), which investigates metalworking technologies and innovations of the late second and first half of the first millennium BCE in western Anatolia and the Aegean.
Before coming to Cambridge, Jana taught at Sheffield (2017) and was Lecturer in Ancient Greek History and Archaeology at Birkbeck, University of London (2018-2020). She has extensive field experience; while her primary research is in Turkey and Greece, she was a part of excavation and survey projects in Italy, Georgia, Bulgaria, and the USA.
Job title: Research Associate
Associated Research Projects
Updates about future exhibitions and displays, family activities, virtual events & news. You'll be the first to know...