Nationality: French
1775 - 1849
Granet's early training copying works of art, both in his native city of Aix-en-Provence and in Paris, along with instruction in Jacques-Louis David's studio, provided a solid foundation on which to build his practice in Italy. In Rome, he met Simon Denis who, impressed with Granet's talents, instructed and encouraged him.
In 1826, he was appointed curator at the Louvre, and in 1833, curator of King Louis Philippe's newly established Musée Historique at Versailles. Making several trips to Rome throughout his life, Granet produced many landscape sketches, earning his living selling drawings of ancient monuments and painting biographical events from the lives of famous artists.
In addition to the 200 drawings and watercolors he left to the Louvre, his bequest of nearly 1,800 works from his studio form the core of the collection at the Musée Granet in Aix-en-Provence.
Place of Birth: Aix-en-Provence
Place of Death: Aix-en-Provence
Text written and researched by Michelle Bird National Gallery of Art, Washington DC.
Associated paintings in this exhibition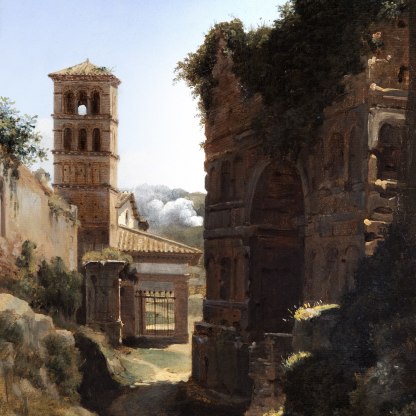 François-Marius Granet
Private collection
Other artists that may interest you
Sign up to our emails
Be the first to hear about our news, exhibitions, events and more…
Sign up