Nationality: French
1795 - 1875
Rémond studied at the École des Beaux-Arts, Paris, under neoclassical landscape painter Jean-Victor Bertin, in whose studio he met Achille-Etna Michallon. Success as a painter of historical landscapes and winning the Prix de Rome in 1821 afforded Rémond the opportunity to travel throughout France, Sweden, and Italy. In addition to Salon medals in 1819 and 1827, he was awarded the Legion of Honor in 1834. He opened a studio in Paris that became renowned for successfully preparing students for the Prix de Rome competition. As a teacher, he wrote several treatises on landscape painting and counted Théodore Rousseau as one of his many students.
Place of Birth: Paris
Place of Death: Paris
Text written and researched by Michelle Bird National Gallery of Art, Washington DC.
Associated paintings in this exhibition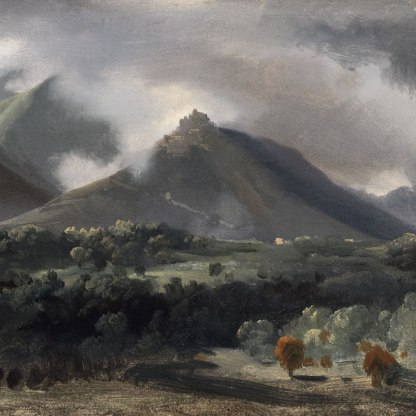 Jean-Charles Rémond
Private collection
Other artists that may interest you
Sign up to our emails
Be the first to hear about our news, exhibitions, events and more…
Sign up