Nationality: German
1778 - 1868
Von Rohden studied at the Kassel Art Academy until 1795 and then traveled to Rome at the age of 17. With the exception of brief trips to Germany, he remained in Rome for the rest of his life. He was a well-known figure in the community of international artists working there (often appearing in group portraits) and left behind some 300 drawings and oil sketches. Influenced by the work of the Nazarenes, a fraternity of German artists in Rome, and by his own conversion to Catholicism, Von Rohden imbued his landscapes with a serene, spiritual quality that set them apart from works by his contemporaries.
Place of Birth: Kassel
Place of Death: Rome
Text written and researched by Michelle Bird National Gallery of Art, Washington DC.
Associated paintings in this exhibition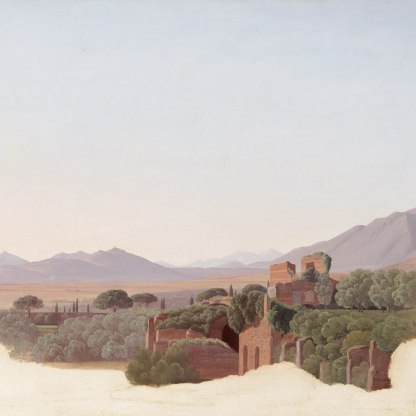 Johann Martin von Rohden
Fondation Custodia
Other artists that may interest you
Updates about future exhibitions and displays, family activities, virtual events & news. You'll be the first to know...