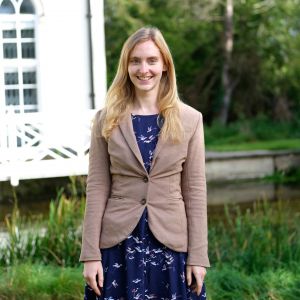 Adèle Wright
Adèle Wright graduated from Emmanuel College, Cambridge, in History of Art in 2009 and volunteered for a year at Bristol Museum and Art Gallery before beginning her training in Easel Painting Conservation at the Hamilton Kerr Institute, from which she graduated in 2013. She then completed an internship at the National Gallery of Art, Washington D. C., before moving to London and working in various private studios as a Freelance Paintings Conservator. From 2015-2017 Adèle worked as a Painting Conservation Fellow at Tate Modern and has since worked periodically as a Freelance Paintings Conservator on the Tate Professional Register. In 2017 she worked as a Paintings Conservator at the National Maritime Museum before joining the Organics Conservation department at the British Museum where she worked until mid-2018. Adèle began her role as Paintings Conservator at the Hamilton Kerr Institute in June 2018.
Adèle co-edited The Picture Restorer for 3 years, is now a co-editor for the Hamilton Kerr Institute Bulletin and sits on the ICON Paintings Group and Ethnography Group committees.
In October 2019 Adèle began a part-time PhD in the Faculty of History at Cambridge. Under the co-supervision of Prof Sujit Sivasundaram and Dr Spike Bucklow Adèle is examining the materials and techniques of painted material culture from Vanuatu in the collection of the Museum of Archaeology and Anthropology in Cambridge. Her research focuses on the nineteenth and twentieth-century history of materiality in Vanuatu, foregrounding Indigenous knowledge in the colonial context.