Christine Slottved Kimbriel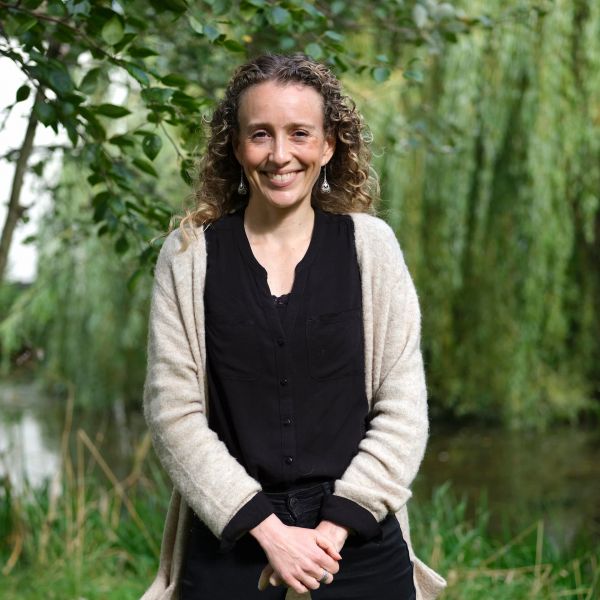 Assistant to the Director/Senior Painting Conservator
Christine achieved a BA in the History of Art from the University of Aarhus in 2004 and graduated with a degree in Conservation-Restoration Science from the School of Conservation, The Royal Danish Academy of Fine Arts, Copenhagen, in 2007. She undertook a two-year internship in the conservation of easel paintings at the Hamilton Kerr Institute, where she proceeded to take up a full-time position as Paintings Conservator in 2009.
Christine has a particular interest in the structural treatment of panel supports and in the developing field of conservation of modern and contemporary paintings. Christine undertakes conservation and restoration of easel paintings and related research at the Institute and in situ, and she acts as supervisor on work undertaken by students and interns. She also oversees the monitoring and control of the environmental conditions of studios and stores.
Christine has worked extensively on English 16th and early 17th century panel paintings and is keenly interested in artistic practices of the Tudor and Stuart period. She is presently engaged in collaborative research on establishing an oeuvre for Meynnart Wewyck, court painter to Henry VII, through technical analytical means. She is also co-investigator on the project Secrets of a Silent Miniaturist: Technical Analysis of Isaac Oliver's Miniatures, and will be undertaking collaborative technical research on miniatures by Isaac Oliver (c.1565-1617) from numerous collections supported by a British Academy/Leverhulme small research grant, with match funding from the Fitzwilliam Museum Marlay Group, until summer 2021.
Email: csr32@cam.ac.uk
Kimbriel, C.S., Ricciardi, P., Secrets of a Silent miniaturist: findings from a technical study of miniatures attributed to Isaac Oliver, British Art Studies Issue 17, https://doi.org/10.17658/issn.2058-5462/issue-17/kimbrielricciardi, 2020
Crippa, M., Legnaioli, S., Kimbriel, C.S., and Ricciardi, P., New evidence for the intentional use of calomel as a white pigment, Journal of Raman Spectroscopy 51, DOI: 10.1002/jrs.5876, 2020
Krarup-Andersen, C., Slottved Kimbriel, C.,Henriksen, K.M., Gregers-Hoegh, C., Christensen, M. & Mortensen, M.N., Bulging in wax-resin impregnated canvas paintings, Interactions of water with paintings, eds. Wright, A., Clarricoates, R. & Dowding, H., Archetype Publications, 2019
d'Hont L.S., Slottved Kimbriel, C., Steinberg M.D., Autonomous near-field communication (NFC) sensors for long-term preventive care of fine art objects, Sensors and Actuators A 285 (2019), Elsevier, pp.456-467 https://doi.org/10.1016/j.sna.2018.11.045
Lodge, K. & Slottved Kimbriel, C. An early secondary use for playing cards from Rouen, Journal of the International Playing-Card Society, Volume 47, No.3, 2019, pp.152-55
Ricciardi, P. & Slottved Kimbriel, C., "A closer look at the cabinet miniature of Lord Herbert of Cherbury" The National Trust (2018)
Rose, J. & Slottved Kimbriel, C., The Modular Cleaning Program: First Impressions from a Four-day Course and Subsequent Implementation, The Picture Restorer, number 50, Spring 2017, BAPCR, pp.18-26
Joannides, P. & Slottved Kimbriel, C., "On the unorthodox origin and byzantine journey of the Lavenham Madonna", The Hamilton Kerr Institute Bulletin number 6, Archetype, London 2016, pp.104-115
Jones, R., Slottved Kimbriel, C. & Wöesten, L., "A study of three paintings by George Gower", The Hamilton Kerr Institute Bulletin number 5, Archetype, London 2014, pp.11-36
Slottved Kimbriel, C., "The Changing Faces of Queen Elizabeth I. Findings during the conservation treatment of the Eton College Sieve Portrait" Hamilton Kerr Institute Bulletin number 5, Archetype, London 2014, pp.86-100
McBurney, H. & Slottved Kimbriel, C., "A newly discovered variant of the Queen Elizabeth I Sieve portrait at Eton College", The Burlington Magazine, vol. CLVI no.1339, pp.640-49
Noh, Y. & Slottved Kimbriel, C., "Sebastiano del Piombo's Adoration of the Shepherds: on the pursuit of coloristic splendour in a 'lost' painting", In Artists' Footsteps. The reconstruction of pigments and paintings, eds. Wrapson, L., Rose, J., Miller, R. & Bucklow, S., Archetype, London 2013, pp.77-94
Slottved Kimbriel, C., "In Search of a Nose for Anne of Cleves: On the Restoration of a 16th Century Portrait and a Reassessment of the Sitter's Identity as Henry VIII's German Bride." Hamilton Kerr Institute Bulletin number 4, Archetype, London 2013, pp.54-66
Bucklow, S. & Slottved Kimbriel, C., "The Fate of a Board: Four Paintings from Trinity College", (Paper presented at the 'Tudor and Jacobean Painting: Production, Influences and Patronage' Conference, The National Portrait Gallery, London, 2-4 December 2010). Available at: https://www.npg.org.uk/research/programmes/making-art-in-tudor-britain/extended-abstracts-and-videos/the-fate-of-a-board-four-paintings-from-trinity-college
Researchers with similar profiles
Updates about future exhibitions and displays, family activities, virtual events & news. You'll be the first to know...