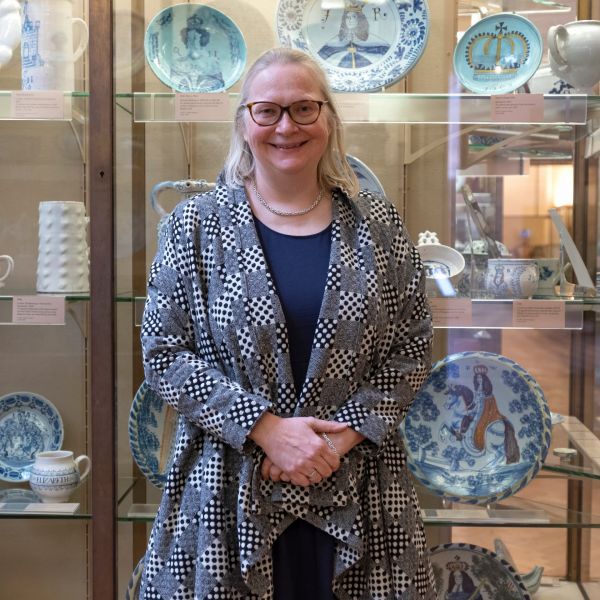 Keeper European Sculpture & Decorative Arts
Dr Victoria Avery is co-curator of Black Atlantic: Power, People, Resistance and has been Keeper of European Sculpture and Decorative Arts at the Fitzwilliam Museum, University of Cambridge, since 2010 prior to which she was Associate Professor in the Department of Art History at the University of Warwick. Formerly a Fellow of the Society of Antiquaries, Director of Studies for History of Art at St Catharine's College, Cambridge and Lay Canon and Non-residentiary Member of Chapter of Ely Cathedral, Vicky currently sits on the editorial board of Ricche Minere and is Emerita Lay Canon of the Chapter of Ely Cathedral.
Vicky's primary field of expertise is European sculpture from 1400 to the present day, especially that produced in early modern Italy, with a focus on Venetian Renaissance sculpture especially that by Alessandro Vittoria (the focus of her 1996 Cambridge PhD thesis) and his circle. She has researched, lectured and published widely on all aspects of Italian Renaissance sculpture. Her British Academy sponsored Vulcan's Forge in Venus's City: The Story of Bronze in Venice 1350–1650 (2011), awarded the Premio Salimbeni in 2012, exemplifies her preferred archival and object-based methodologies. Her most recent large-scale sculpture enterprise was a 2-year interdisciplinary research project focussed on the authorship, patronage, making and meaning of the Rothschild bronzes, which resulted in a major interdisciplinary conference and multi-author book, Michelangelo: Sculptor in Bronze (2018). Vicky's current European sculptural research interests include materials and materiality, making and commissioning processes, meanings and iconography, collecting and display, provenance and the sculpture art market. She is currently leading a new digital research project, Representations of Black People in European Sculpture, 1450–1950.
Vicky also has broad knowledge of and interest in the decorative arts of early modern Europe, especially in terms of making, materiality, usage, collecting and display. She has curated numerous research-led interdisciplinary exhibitions, including Treasured Possessions (2015), Madonnas & Miracles (2017) and Feast & Fast: The Art of Food in Europe (2019–2020). These have resulted in several conferences including, most recently, the CRASSH-funded symposium, Power, Promise, Politics: The Pineapple from Columbus to Del Monte (2020), which is being expanded into a multi-author volume, The pineapple from domestication to commodification: Re-presenting a global fruit, for the Proceedings of the British Academy (2024). Vicky's broad-based knowledge of European visual and material culture, and her interests in interdisciplinarity and re-examining the past through a decolonising lens has led to her active involvement in the UCM Legacies of Enslavement and Empire project. She is Co-Curator of the legacies-focussed exhibition Black Atlantic: Power, People, Resistance (8 September 2023 – 7 January 2024) and Co-Editor of the accompanying book. She has been nominated Lead Curator of the Fitzwilliam's second legacies exhibition (February – June 2025), for which she is currently researching the presence of Black abolitionists, activists and performers in Cambridge in the later 18th and 19th centuries.
Vicky lectures and examines regularly for the Department of Art History and Faculty of History at the University of Cambridge as well as undertaking object-based teaching for BA, MA/MPhil degrees in English, Medieval and Modern Languages and Theology. She would welcome applications from prospective MPhil and PhD students whose intended research relates to her current research interests: please contact her in advance if you are considering making an application.