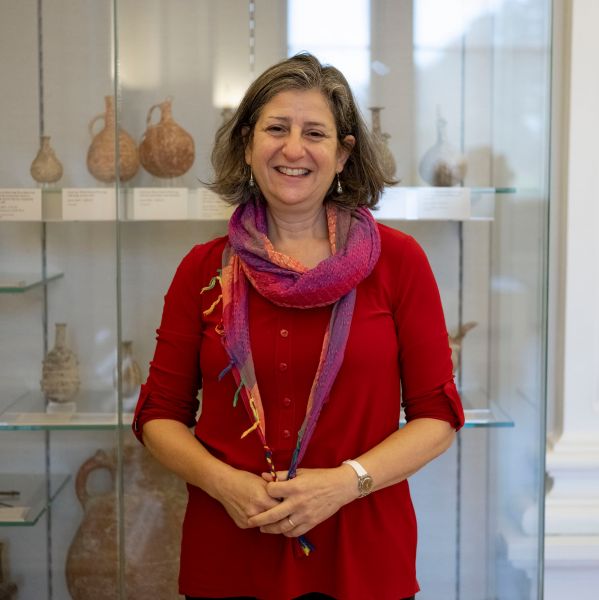 Conservator (Objects)
Susanna Pancaldo specialises in the conservation and care of archaeological objects, with a research focus on metal objects and the transformations they undergo, from the time of their creation, through burial underground in an archaeological environment, and to their role in a modern museum context.
Since receiving an MA in History of Art and a Diploma in Conservation from New York University, Susi has worked with collections in museums and on archaeological sites in the UK, Italy and Greece. She served as Head of Conservation for the Archaeological Excavation and Field School in Murlo (Poggio Civitate), Italy, an Etruscan site from 1997-2007, and undertook contract work for the Museum of London, the Horniman Museum and the Petrie Museum of Egyptian Archaeology, UCL before being appointed Conservator Manager for the Petrie Museum of Egyptian Archaeology in 2007 and then Senior Conservator for UCL Museums and Collections in 2011, where she oversaw provision of conservation and collections care across a broad range of collection types.
Susi joined The Fitzwilliam Museum in 2019 as Conservator for the Coins and Medals Department and the 'Being an Islander' metals research project, for which she investigated metal objects from Cyprus ranging in date from the Early Bronze Age to the Roman Period, including an exceptional early Iron Age sword from Tamassos.
Through empirical study and the application of scientific imaging and investigative techniques, Susi explores ways in which material culture can reflect the social, political and economic landscapes of the people and communities who inhabited the ancient world.
Email: sp985@cam.ac.uk
Researchers with similar profiles
Sign up to our emails
Be the first to hear about our news, exhibitions, events and more…
Sign up